Romancing the Bride (Frontier Vows #1)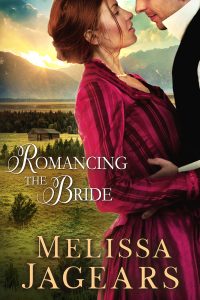 Marrying a stranger to save a ranch is one thing; losing the land on their wedding day is another.
Desperate to keep the ranch where three of her children and a husband lie buried, Annie Gephart must marry or sell. Which of the few bachelors in town would consider a surprise proposal to wed a plain widow with a rebellious daughter, a spirited boy, and unpaid taxes—without laughing in her face?
Jacob Hendrix has never fully let go of his ranching dreams despite ending up as a small Wyoming town's marshal. The job wouldn't be so bad, except he's more errand boy than lawman. When Annie proposes marriage without a single coquettish bat of an eyelash, can he commit himself to a woman he hardly knows for a choice piece of property he'd be an idiot to pass up?
But taxes aren't all that threaten Annie and Jacob's plans. Cattle rustlers, crumbling friendships, and wayward children make this marriage of convenience anything but. When they lose what they've sacrificed everything to save, will the love of a stranger be enough?

Pretending to Wed (Frontier Vows #2)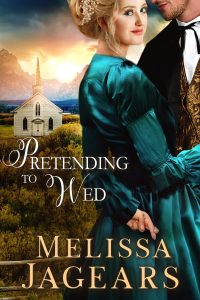 It's a match made in heaven…as long as they don't fall in love!
The ranch Nolan Key has spent decades working for, even lost a leg for, is now his—or at least it should be. But an absurd clause in his father's will means he's in danger of losing the place to his lazy, undeserving cousin. Nolan finds himself scrambling to save his home—by proposing marriage to the town laundress.
Corinne Stillwater's hands have betrayed her. Numb from hours of doing the same work over and over, her hands will only heal, according to the town doctor, if she gives up the laundry and marries. But she's been stung repeatedly by love before, so that is one remedy she can't swallow.
When Nolan offers Corinne a marriage in name only, how can she refuse? Such a partnership could give them the security they seek, but what if the ranch isn't as secure as they believe, and their lives—and dreams—aren't quite as compatible as they thought?

Depending on You (Frontier Vows #3)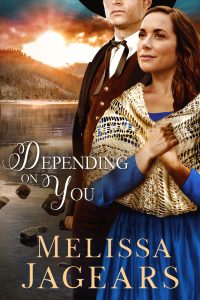 Can the joy and hope of Christmas restore their love before it's too late?
Leah Whitsett's life was ideal until the disastrous day she nearly died because of her husband's deceit. When he returns home weeks before Christmas, she knows the best gift she can give him is forgiveness, but how can she relinquish her hard-won independence knowing he plans to turn their family's life upside down again?
Bryant has always known his wife was a gift he'd never deserved, but how can he provide for her in a town that no longer wants anything to do with him? He longs to atone for the misery he's put his loved ones through, but when he brings a family member home for the holidays, he and Leah may end up even further apart.
With emotions high and their marriage at stake, will the season bring the hope they need…or are their rifts too large to mend?

Marrying Mr. Wrong (Frontier Vows #4)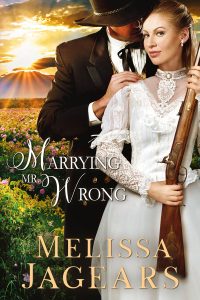 Can a man who's completely wrong for her help her find Mr. Right?
Gwendolyn McGill wants to be loved and accepted for who she is, but that's hard to do in a small town where everyone judges her by the scandal her father caused. Unfortunately, the man she hoped would sweep her away from all the wagging tongues is no longer interested in marrying her. Unable to leave town, she's determined to prove she's more than just a pretty face who knows how to bat her eyelashes.
For years, Timothy O'Conner has loved Gwen from a distance, knowing someone like her would never be attracted to a lowly ranch hand with a blemished face like him. When Gwen unexpectedly shows up at the ranch, asking him to help her learn how to attract a man of quality, Tim's feelings become even harder to suppress.
When danger pushes them together, they discover there's more to each other than either of them imagined. Though God is no respecter of persons, is the desire of their hearts strong enough to defy society's expectations?